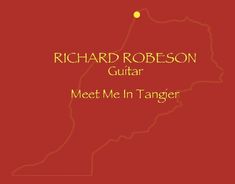 AROUND THE WORLD IN 47 MINUTES
Richard Robeson described his 2011 release, moonlight over the maghrib, as "a jazz-inflected homage to the Spanish and Middle-Eastern roots of the guitar." And even though CD Universe recognized the "obvious inspirations [of] supreme guitar masters Ralph Towner and John McLughlin," it also acknowledged "strong references to Middle Eastern music."  With Meet Me In Tangier, the Middle Eastern references are even stronger, not only in the compositions but also in the personnel. Three of the nine compositions feature the brilliant musicianship of Iranian-Canadians Shahriyar Jamshidi – Kamanche (Spike Fiddle) and Sina Khosravi — Tonbak (Goblet Drum). Both bring a background in Persian classical music (and the associated "monster chops") which like many of the world's classical traditions requires mastery of the art of improvisation. But Middle Eastern music is just one of  a number of traditions to be found on Meet Me In Tangier. Influences also include the music of India, Turkey, North Africa, Spain (of course), as well as jazz and blues (also, of course).
There is also the highly unorthodox use of tenor and baritone ukuleles. The single-course tenor and the baritone are well-established, and some of the best known masters of the ukulele play tenor. But the eight-string versions are not familiar to most people, including musicians. Meet Me In Tangier  prominently features some super-aggressive playing on both instruments, demonstrating what can happen when these diminutive members of the guitar family are treated as just that — simply another type of guitar. They can also suggest a strong kinship to the saz (Turkey), the  tar (Iran), and the bouzouki (Greece) which puts them in good company with classical Persian instruments.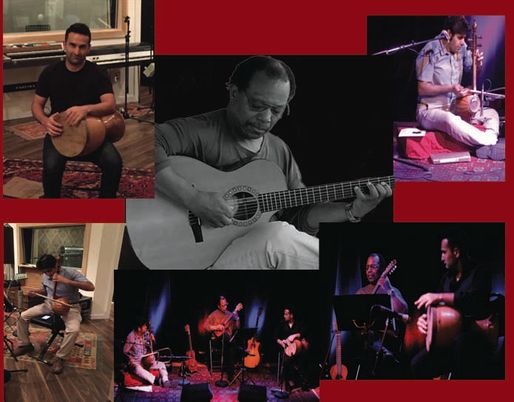 Onstage - Small World Music Centre, Toronto, 27 August 2016. In-studio - Union Sound Co., Toronto, 29 August 2016